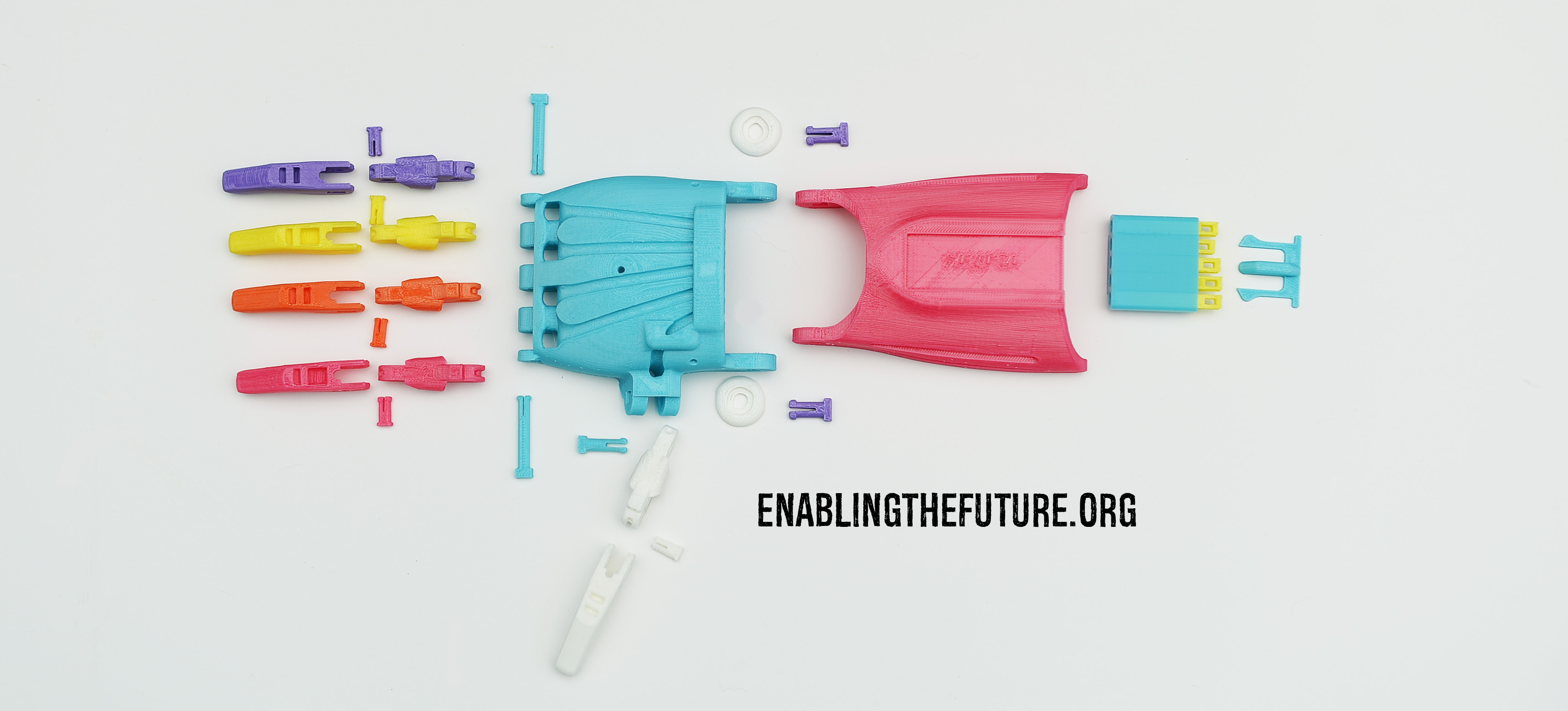 If you are interested in donating unassembled 3D printed hand kits for the e-NABLE Community to put your idle 3D printer to good use or while you wait to find a direct match for a recipient,  you are in the right place!
While it is always a wonderful experience to get to be matched one on one with a recipient where you can see immediate results from your donation and gift, it is also important to remember that your unassembled hand kits and donated assembly kits, can potentially make an even bigger impact in the world in ways you may not have realized.
HOW WILL THESE UNASSEMBLED HAND KITS BE USED?
1. For training occupational therapists, prosthetists, hand specialists, nurses, and clinicians who want to learn how to assemble 3D printable assistive devices for their patients.
For every hand kit that is gifted to an occupational therapist, prosthetist or medical clinic to be used to train them on assembly and function of a 3D printed hand or arm, you open the door for them to start creating these low-cost designs for dozens of their clients and patients who have no other option for an assistive device.
2. Creating educational kits for schools who do not have 3D printers of their own.
For every hand kit that is gifted to a school and classroom who does not have funding available to purchase their own 3D printers, you open the door for that single hand kit to be a potential source of inspiration to our next generation of change makers, who will be able to see how their ideas and imaginations could potentially change the lives of thousands of people worldwide.
3. For hand-a-thon builds for scouts, schools, medical students and youth groups as STEM-based service learning projects.
For every hand kit that is gifted to use for a hand-a-thon build event, 2-5 students per hand get to be part of learning about 3D printing design, practice team building skills and get to be part of creating a tool that will be used by someone in need of a "helping hand." These hands will be assembled by those involved in the events and upon completion, returned to e-NABLE to distribute to clinics in underserved areas who have long wait lists.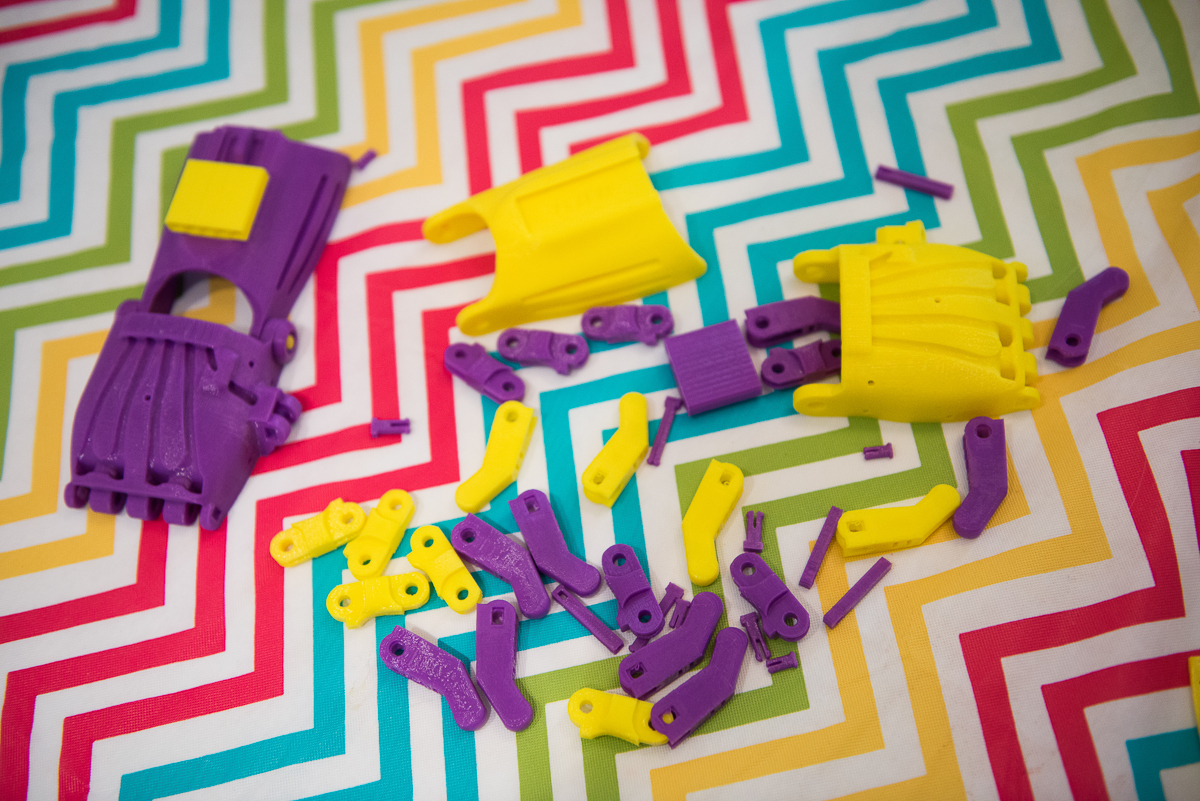 WHAT SIZES AND COLORS ARE NEEDED?
• All sizes and both left or right orientations, any color or color combinations.
• Please note: Recipients in some countries, prefer to not have their devices draw attention to themselves and are more likely to use them if they are created in browns, blacks, or gray.
• Printing at 120% to 150% is a good range for potential fit
WHICH DESIGNS WILL BE THE MOST HELPFUL TO PRINT FOR E-NABLE?
1. PHOENIX HANDS – This design has become one of the more requested designs and the wrist portion prints flat for easy shipping to clinics overseas. The "Unlimbited" design versions of the "gauntlet" are then thermoformed to fit the recipient's arm and creates a more customized fit for them.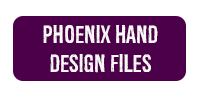 2. RAPTOR RELOADED – This design has the benefit of being easily assembled but is not as widely requested or used for actual recipients but make great models for classrooms who are eager to learn about 3D printing and assemble a hand as a class project.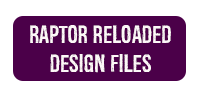 3. FLEXY HAND – This design is preferred by those in cultures where they do not want a "robot" looking hand, but instead want a design that most closely resembles the human hand as they do not want to stand out and draw attention to their limb difference, but wants to blend in as much as possible. *This design requires flexy materials that may not be compatible with your 3D printer.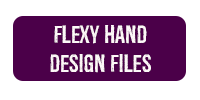 4. TEAM UNLIMBITED ARM – This design is for those that have limb differences that do not have a wrist but have a functional elbow and are needed in all different sizes from children to adult. Please do not thermoform them prior to shipping.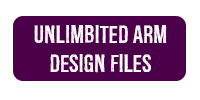 HOW TO PACKAGE YOUR DONATED HAND OR ARM KIT TO SHIP TO E-NABLE:
STEP 1 – Please put all of the parts into a gallon sized ziplock bag and seal it.
STEP 2 – Please use a permanent marker to label the size (which % you printed at) and orientation (left or right) as well as which design you printed, on the outside of the bag.
STEP 3 – Please put your donated kit into a bubble mailer or box to ensure that the parts do not get broken in the shipping process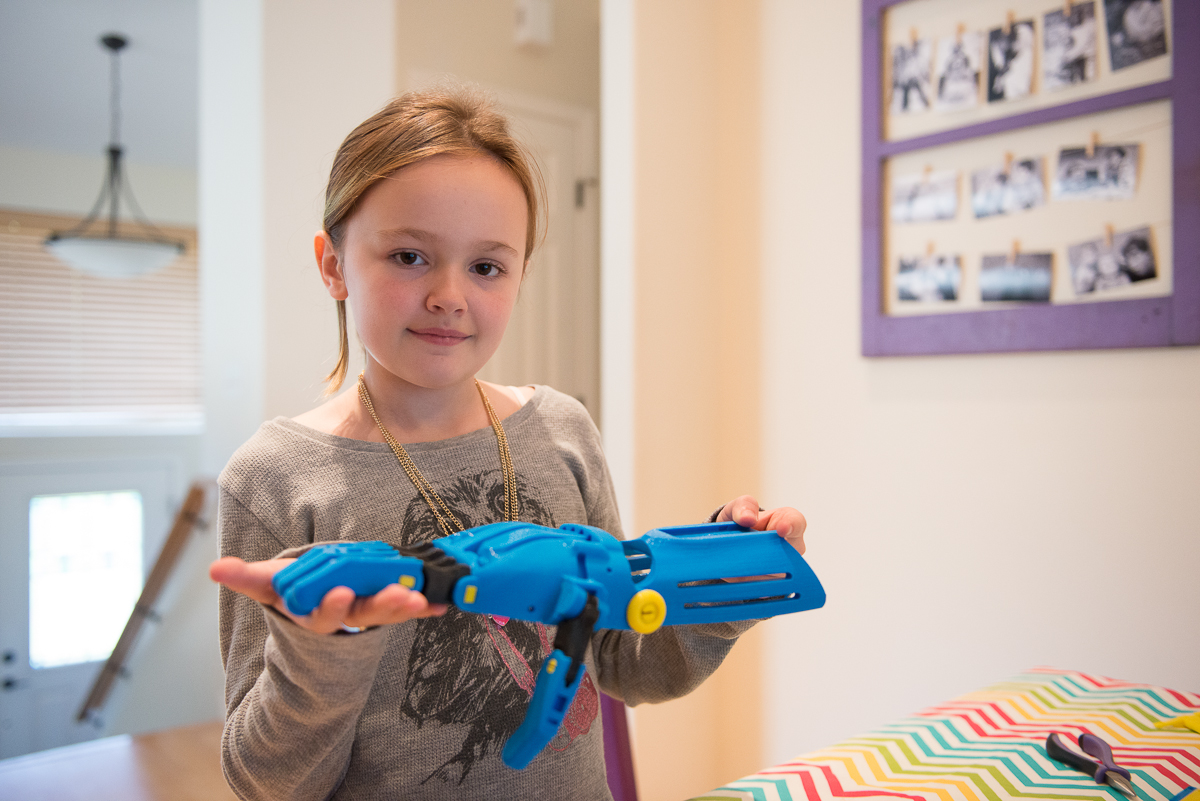 WHERE TO SEND YOUR COMPLETED HAND AND ARM KITS:
Please send your completed kits to:
ATTN: Maria Esquela
1260 Stevens Avenue
Arbutus, MD 21227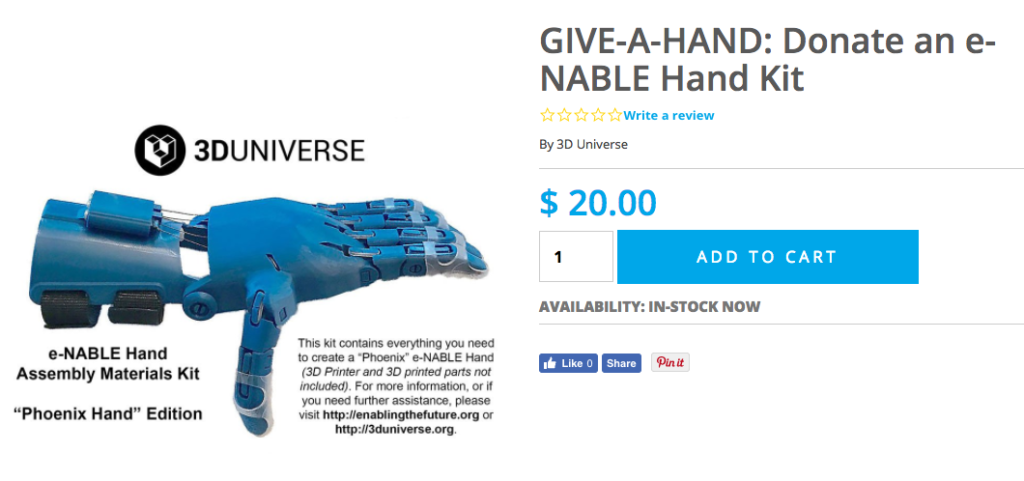 WOULD YOU LIKE TO DONATE ASSEMBLY KITS TO HELP CUT THE COST TO SCHOOLS AND CLINICS?
If you would like to donate the assembly kits that include the padding, velcro straps, screws, elastics and gel tips needed to complete the hands so that clinics and classrooms do not have to purchase these materials, please visit the links below to be directed to 3D Universe where you can purchase an assembly kit and have it shipped directly to an e-NABLE Volunteer that will send it along with the donated hand kits.
**These kits will not be sent to you. They will be sent to the address above to be used for assembly and educational events. If you are in need of an assembly kit of your own, please visit our resources page HERE.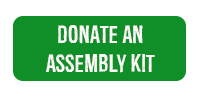 THANK YOU for helping us to make a difference in the lives of many – by donating hand and arm kits for APBLS/Enable Alliance STEM based service learning education and medical professional training purposes.
The impact that your donation will make, may be larger than you can imagine and though your donated device may not end up being used on a recipient… the possibility that your donation may be what inspires another student to become an engineer, an innovator, and a "Change Maker" who someday helps to "Enable The Future" for many more…is quite high.
And that, is priceless.